Quality Info
Know our quality.
Trust our products.
NutraSport

Our collective in-house experience in the nutritional products manufacturing industry, compounding pharmacy and herbal medicine provides us with the background in selecting experienced product manufacturers for our product lines that adhere to the highest standards set forth by the federal government, regulatory and oversight institutions and good manufacturing practices certification organizations. In addition, we inspect and verify allergen claims, ingredient raw material sources and overall label accuracy to ensure you are getting the highest quality product to use safely and effectively.
National Science Foundation Certified for Sport®

Distributor of National Science Foundation (NSF) Certified for Sport® products, which was created to meet the growing demands of athletes, coaches and healthcare professionals to certify that sports supplements are safe and completely free from banned substances. Every product that carries the NSF Certified for Sport® mark has undergone stringent laboratory testing to confirm content, purity and compliance.
National Science Foundation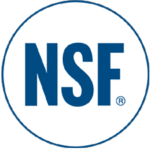 NSF has a successful 60-year history of providing certification programs for food, water and consumer goods. In recent years, NSF has become the gold standard of GMP certification programs in the dietary supplement and functional foods categories.
Natural Products Association

Natural Products Association (NPA) has always taken a leadership role in promoting quality standards and has developed proactive certification programs for that purpose. NPA was the first organization to offer a third-party GMP certification program for the manufacturing of dietary supplements and dietary ingredients. NPA established GMP standards for dietary supplements in 1999 and updated the standard in 2000. At time of publication, these GMP standards represented industry's best practices and served as the basis of the NPA GMP Certification Program as well as establishing a higher level of control than was currently required by the FDA. In June 2007, the FDA published the final GMP regulation specific to dietary supplements (21 CFR 111). In order to keep the NPA GMP Certification Program relevant and reflect the highest level of industry good manufacturing practices, the NPA GMP Standard has been revised to include all of the FDA GMP requirements of 21 CFR Part 111 and certain requirements from the 2000 version of the NPA GMP standard that exceed requirements of the FDA GMPs, or reflect best industry practices, and/or are necessary for the evaluation of compliance to the NPA GMP standard.
Quality Assurance International
QAI is a USDA-accredited certifying agency (ACA), approved to provide organic certification in accordance with the USDA's National Organic Program. Certification is important for consumers, the industry and the regulatory community in order to assure organic integrity from farm to retail shelf. A product marked "certified organic" means that an accredited certifying agency, such as QAI, has verified that the product labeled as "organic" is true to that organic labeling claim, as specified by the National Organic Program in accordance with the Organic Foods Production Act of 1990.
American Herbal Products Association

Founded in 1982, AHPA is the oldest of the non-profit organizations that specializes in service to the herbal industry. It is the voice of representing the botanical trade. With more than 300 members, AHPA's membership represents the finest growers, processors, manufacturers, and marketers of botanical and herbal products.
Food Allergen Labeling and Consumer Protection Act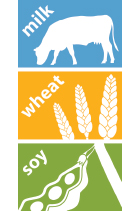 In 2006, the Food Allergen Labeling and Consumer Protection Act (FALCPA) went into effect. The law requires food and dietary supplement manufacturers to clearly list if any of the identified common food allergens are present in the product: wheat, soy, egg, milk, fish, crustacean shellfish, peanuts and/or tree nuts. These eight foods account for 90% of the food allergies. This product's ' "Contains No" statement on all of our product labels is in accordance with the Food Allergen Labeling and Consumer Protection Act (FALCPA) allergen label requirements; a full statement looks like this: "Contains No artificial colors, flavors or preservatives; no wheat, gluten, milk, eggs, peanuts, tree nuts, soy, crustacean shellfish or fish."
ISO (International Organization for Standardization) 9001 Quality Management System Certified

ISO (International Organization for Standardization) 17025 accreditation of in-house laboratories performing chemical, physical, and microbial testing
Health Canada GMP (Good Manufacturing Practices) Certified

European Union GMP (Good Manufacturing Practices) Certified

Finished products meet and often exceed USP (United States Pharmacopia) specifications.

Products may meet multiple certifications and credentials but not all.
Don't wait. Let us guide you to be the best athlete you can be.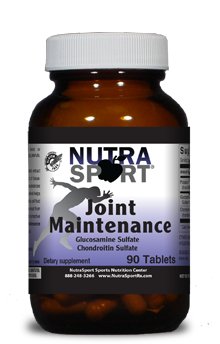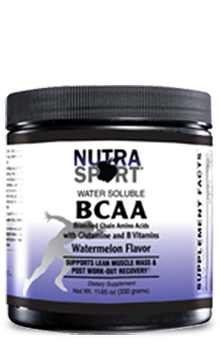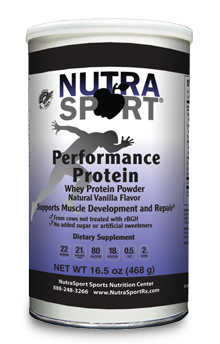 WHY CHOOSE NUTRASPORT PRODUCTS?
NutraSport's pharmacy, sports medicine and nutrition credentials assures you of professional feedback, recommnedations and consultation. Additionally, we can discuss your needs with your physician, therapist, athletic trainer and coach to assure you of the highest quality health care approach to optimize your exercise and training.
Don't wait. Let us guide you to be the best athlete you can be.